Pagi ini, berita mengejutkan datang dari Paul Walker, pemeran Brian O'Conner dalam serial film otomotif tersukses sepanjang masa, Fast and Furious.
Paul Walker dikabarkan meninggal dunia pada usia 40 tahun karena kecelakaan mobil di daerah Valencia, California. (Variety)
Paul Walker mengalami kecelakaan tunggal yang mengakibatkan mobil Porsche Carrera GT yang ia tumpangi meledak dan terbakar hebat. Ada 2 orang di dalam mobil itu, belum diketahui siapa yang sedang menyetir mobil tersebut saat kecelakaan terjadi.
Keduanya dipastikan meninggal dunia di tempat kejadian.
Paul Walker meninggal dunia pada usia 40 tahun.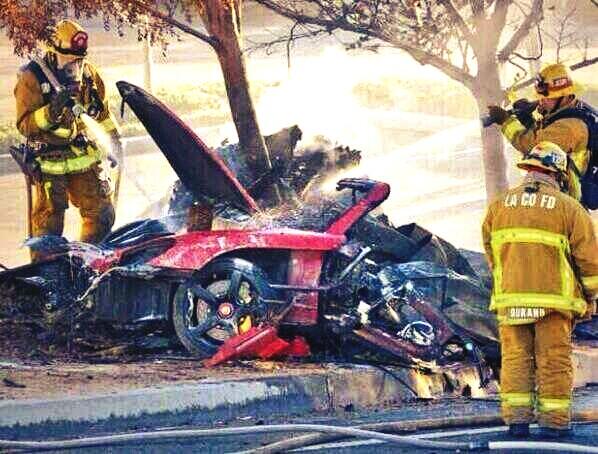 Kondisi Porsche Carrera GT yang ditumpangi Paul Walker
================================================================================
Ironis. Kalau kita bicara tentang Paul Walker, pasti pikiran kita langsung terpola dengan Fast and Furious. Tak peduli gender, laki-laki ataupun perempuan, pasti akan menjawab hal yang sama.
Serial Fast and Furious terkenal sebagai franchise film termahal milik Universal. Fast and Furious mencatatkan total pendapatan worldwide sebesar USD 2,380,084,668 sampai serial FF6.
Dimulai dari The Fast and The Furious (2001), 2 Fast 2 Furious (2003), The Fast and The Furious: Tokyo Drift (2006), Fast and Furious 4 (2009), Fast Five (2011), Fast and Furious 6 (2013), dan serial terbarunya Fast & Furious 7 yang rencananya akan dirilis pada 2014 dan sedang menjalani proses pembuatan.
Paul Walker berpartisipasi di semua film Fast and Furious, kecuali The Fast and The Furious: Tokyo Drift.
Yap, gue seneng otomotif dari dulu. Dan Paul Walker adalah salah satu - selain Jeremy Clarkson, Richard Hammond, dan James May - orang yang bikin gue pengen cepet-cepet punya SIM dan bisa nyetir.
Entah kenapa, gue melihat 4 orang itu mengemudikan mobil seperti itu adalah pekerjaan paling mudah sedunia. Clarkson, Hammond, dan May sudah terkenal lewat acara Top Gear yang disiarkan oleh BBC.
Sedangkan Paul Walker, menginspirasi kami, para anak laki-laki, dengan aktingnya yang brilian di semua serial Fast and Furious. Bagi kami, kriteria cowok keren bukanlah yang jago basket ataupun sepakbola. Cowok keren berarti dia harus bisa menyetir secepat Paul Walker. That's it.
Impian semua bocah laki-laki... Nissan Skyline R34 GT-R V-Spec II
Terima kasih sudah menjadi inspirasi bagi kami semua, Paul Walker. Semoga kamu mendapat tunggangan yang sama cepatnya dengan Skyline atau Lancer Evo yang kau pakai di dunia.
Rest in peace, Paul William Walker IV!